Back 'n Motion, located on the corner of Colonel Talbot Road and Southdale Road, has been providing care in London ON for over 14 years. With our reputable team of therapists, we are dedicated to providing the highest quality of care to our clients. Our facility is personalized with a large gym area and private treatment rooms.
Back 'n Motion provides treatment for work-related injuries (WSIB), motor vehicle accident claims (MVA), post-concussion (shift concussion management program), and sports-related injuries.
Back 'n Motion's mission is to get you back in action through individual assessment and treatment plans.
Our physiotherapists use a variety of techniques to achieve the health and wellness goals of our clients by using manual therapy and hands-on therapy along with treatment modalities. Modalities may include acupuncture, laser therapy, electrotherapy (ultrasound), TENS, patient-specific exercise plans, and patient education on injury management and prevention.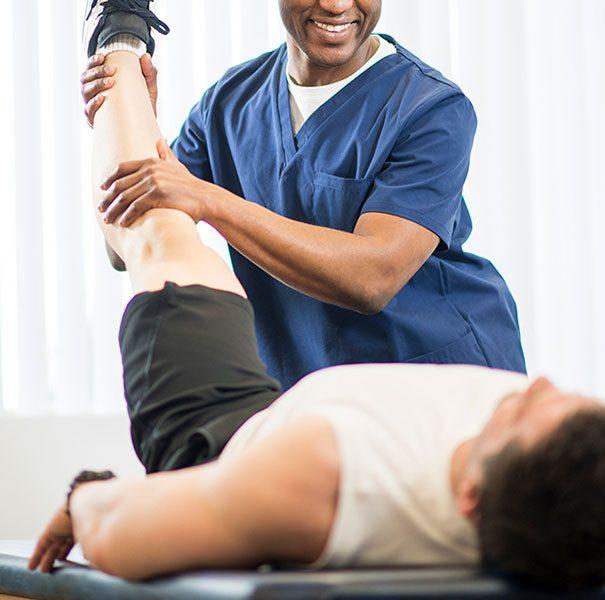 See What Clients Have to Say
Excellent chiropractic care but service times are limited. I haven't used their other services.
Caroline Clarridge
2022-04-08
All of the staff are wonderful and are dedicated to getting you back to feeling your best
Charla Henderson
2022-03-03
Super friendly staff that's so accommodating especially when I need to bring my young daughter into appts with me. I never feel like she's a burden or in the way. Leon is A-MAZ-ING and I feel like I am in capable hands with someone who truly wants me to get better and knows exactly what I need to get me there. I can only book in for limited time slots and they always do their best to get me in for a time that works for me. Highly recommend!
Wonderful service! Knowledgeable and personal staff. Best clinic I've been to and received very good service each and every time by Raffy,(physio and accupuncture) Dr. Carson Gee (Chiropractor)and Phil. (massage therapy)You're in good hands here! Highly recommend
Susanne From London
2022-02-20
The best clinic in London! My recovery was made so much easier, more pleasant and swifter here than anywhere else I have both ever been. I highly recommend this clinic to everyone we know! So thankful for everything this clinic has done for me. I quickly discovered at Back N Motion, the services and skill set WAY better than other clinics I'd been to and was easy to schedule appt times that suited me. I insisted to my Car insurance for on going here for all Accident Benefit therapies and SO glad I did. I found Back N Motion gives that personal touch the others may lack and always puts their patients #1. I am so thankful for all the caring support and encouragement my husband and I both receive at Back N Motion that has made all the difference in getting better. it is always YOUR right to choose any clinic you want- chose a clinic that prioritizes YOU and not the insurance company that referred them! My well being and recovery is thanks to all the caring staff at Back N Motion. Thanks guys!
Leon and staff are friendly and professional! I wouldn't go anywhere else. Thank you guys for all you do!
I was looking for a place that offered Physio and Acupuncture and landed on Back N Motion. Raffy was very thorough, professional and got me back to a level that I never thought was possible.
Visit Back 'N Motion Today!
CALL US TODAY! 519-668-8855